If you're looking to improve the quality of life and increase property value for your Charlotte home, hardscapes may be the perfect solution. Hardscapes are features that are added to outdoor living areas, and they can include everything from firepits and fireplaces to patios, driveways, fountains, stone pathways, gazebos and pergolas, and retaining walls. Each of these features can add beauty and functionality to your outdoor space. In this blog post, we'll discuss the benefits of hardscapes and take a look at some of the most popular options available.
With fall in the air, it's time for bonfires, s'mores, and beverages to warm your spirit!  Imagine relaxing by the firepit with friends hanging out in your own backyard.  A hardscaped firepit and seating wall are an excellent option to host cook-outs, football parties, or evening hangouts.  When you have a built-in firepit, the ease of lighting and extinguishing a fire is also built-in!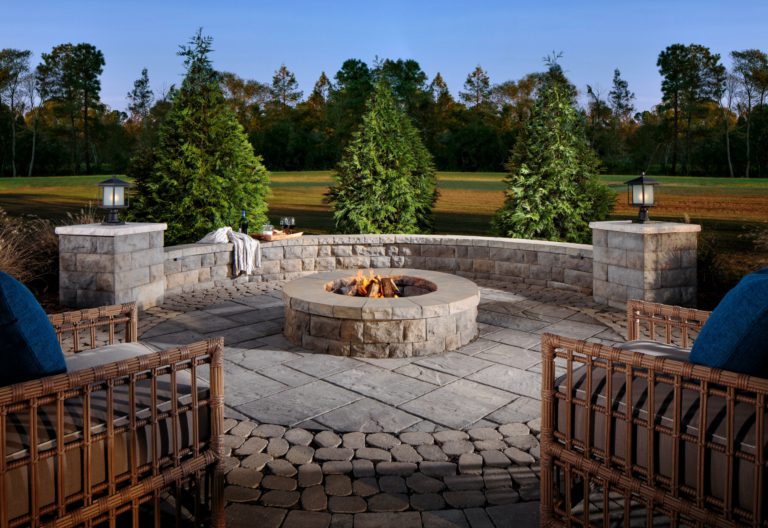 Fireplaces are also a high-end addition that brings your outdoor experience to the next level.  While less popular due to higher costs, the aesthetic experience that a fireplace brings is top-notch when it comes to luxurious living.
Patios are one of the best investments you can make to increase your home's value. They provide a boost in your curb appeal and in turn, escalate your home's value very quickly.  They provide space to entertain and they extend your living space for adults, teens, children and animals alike – think parties, taking in the environment, enjoying nice weather, and spending time with loved ones! 
Driveways and stone pathways make your home and outdoor living areas more accessible. They also increase curb appeal. Our team at Charlotte Lighting and Hardscapes can make a plan for any type of pathway that your home needs.  From gravel to brick, bluestone to concrete, our gorgeous walkway ideas can take you wherever you want to go in your landscaping.
Fountains, gazebos, and pergolas were once items that were only used in public spaces, but now these great features and attractions are accessible for any home. Whether you're growing fruit vines or floral winders, pergolas and gazebos are a wonderful respite for reading, relaxing, or dining in most southern weather!  Of course, everyone from children to our oldest generation loves a running fountain.  Imagine the calmness that comes from watching and hearing that water trickle as you enjoy your outdoor living areas.
A retaining wall is an additional hardscape that is sometimes necessary for keeping your areas in place.  Other times, a retaining wall allows you to use tiers or additional spaces in your yard for various activities.  No matter the reason, a retaining wall can add visual interest and can ramp up your outdoor area. 
Spending time outdoors with loved ones is one of the best things you can do for your mental and physical health.  And when you have a beautiful, hardscaped outdoor living area, it's even better!  If you're ready to increase your property value and improve your quality of life, contact Charlotte Lighting and Hardscapes today. We'd be happy to help you design and implement the space that you've been dreaming about.