Top Reasons to Install Outdoor Lighting Around Your Home
Installing lighting around your home may seem like a luxury. In reality, installing outdoor lighting in the Carolinas has many benefits and may save you money in the long run. It also helps increase your quality of life at home.
Safety & Security
Installing lighting around your home increases safety and security. Have you ever stumbled through the dark to unlock the door? Have you ever tripped on a step or sidewalk entering your home? Lighting the sidewalks and doorways outside of your home will help to prevent injuries that happen in the dark.  
Outdoor lighting also helps to deter criminals. A home that is well lit can be observed by passers by as well as law enforcement. Criminals hate to be seen! Outdoor lighting adds a layer of protection to your home because criminals tend to stay away from well lit homes. Cameras can also catch criminals on tape more easily if an area is well lit. Lighting can deter criminals from your home as well as the homes of your neighbors!
Outdoor lighting can also deter pranksters. While we all enjoy a good neighbor-kid prank, no one enjoys the clean up that often ensues afterwards. From toilet paper to flamingo yard stakes, outdoor lighting can scare a neighborhood kid off quickly!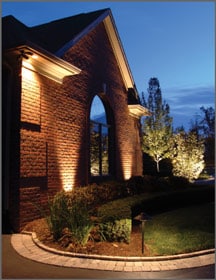 Increases Curb Appeal
Whether you're selling your home in the near future or staying put your entire life, outdoor lighting increases your curb appeal. Homes with ample outdoor lighting look more inviting and more trustworthy.  In fact, homes with outdoor lighting sell faster and are said to feel more elegant, as well as welcoming.  Lighting can increase your home sale price by up to 20%.
It is important to use a professional when choosing and installing outdoor lighting. Creating reflections and shadows on different elements of your home can accentuate the features and create a luxurious feel. Improperly installed or poorly designed lighting can make your home look awkward and accentuate random spaces.
Increases Your Outdoor Living Experiences
Appropriate lighting around a pool, hot tub, firepit or fireplace area and around your yard can help your get-together stay together a little longer.  As the fall and winter days get shorter, it's important to have ample lighting for safety as well as the pleasure of you and your guests. Lighting is important if you intend to host outdoor dinner parties or other evening gatherings.  Of course, it's important to be able to see to make your s'mores!
Deters Animals, Insects and Pests
Outdoor lighting can deter nocturnal animals as well as other insects from coming near or entering your home. Because many animals and insects hide from the daylight, they will also not go near your outdoor lighting and the areas that are lit. These animals and insects find safety in being unseen so they steer clear of any light that will expose them. Installing outdoor lighting is one way to keep them from invading your home.
Safety & security, curb appeal, increasing outdoor living experiences and deterring animals, plants and insects are some of the reasons that you should have outdoor lighting installed at your home as soon as possible!  For a free quote, visit us today at  https://charlottelightingandhardscapes.com/ or call 704-747-0235! We use only the highest quality lighting components, guaranteed to provide years of good service by Vista, Hadco, Kichler and ProTrade.
To learn more about increasing your property value in NC & SC with hardscapes, visit us at: https://charlottelightingandhardscapes.com/home-page/media-room/#/media-room/article/120057/hardscapes-and-increased-property-value-in-nc-and-sc
https://charlottelightingandhardscapes.com/wp-content/uploads/September-2022-Charlotte-Hardscapes-Blog-Photo.jpg
280
216
Charlotte Lighting & Hardscapes
https://charlottelightingandhardscapes.com/wp-content/uploads/clh-website-logo.png
Charlotte Lighting & Hardscapes
2022-09-26 04:19:36
2022-09-27 09:33:04
Top Reasons to Install Outdoor Lighting Around Your Home